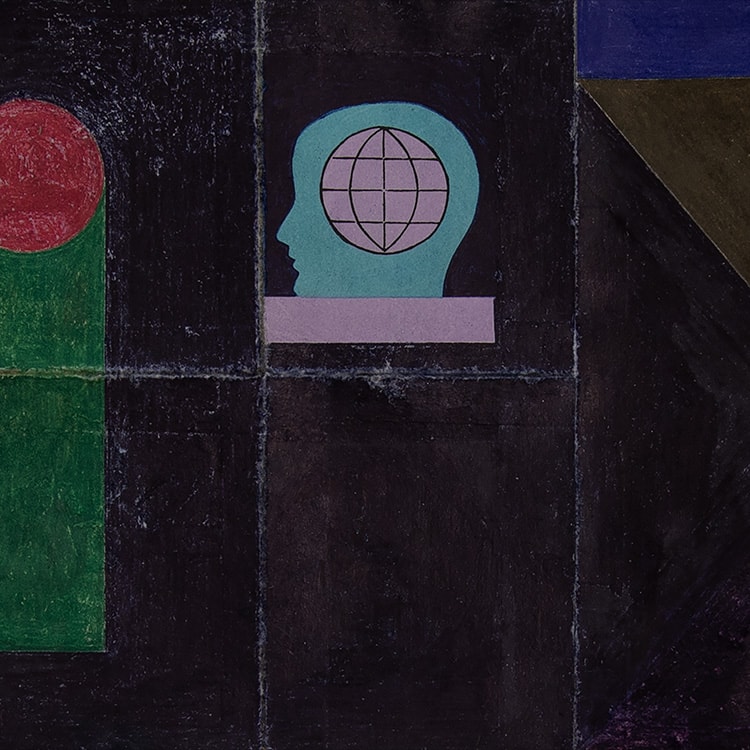 2x2x2__004September 6 - October 3, 2020
Toru Otani: Spectrum at 2x2x2
Artist__

Toru Otani
Venue__

2x2x2 by imlabor, Tokyo, Japan
Date__

6th September - 3rd October, 2020
※ Opening hours: 2pm - 7pm / Thur - Sat.
Press release__

Toru Otani uses the backside of sandpapers, empty cigarette packages, and vintage maps as a canvas.
In this exhibition, 'Spectrum,' objects he found from internet auctions such as pre-war textbooks, a used note, and a postcard are used as materials. Those objects were selected by the marks that somehow caught his attention, such as a human hand, the sun, eyeballs, etc.
Using color pencils, he intends to erase excess elements and information that identify the marks' meanings. Otani says this process reminds him of the feeling when you see an abandoned billboard for a second while driving down a national road- somehow, you cannot get it out of your head.
For Otani, an artwork is something like that: it's hard not to look at and think about even though you don't understand the importance of existence.
About the Artist__

Toru Otani (b.1988, Kanagawa, Japan; lives and works in Tokyo, Japan) is a Japanese artist who approaches to create new images by drawing over ready-made objects.
Otani has been involved in group exhibitions 'Ignore Your Perspective 52' at Kodama Gallery, Tokyo (2019), 'Maoya Kishi & Toru Otani' at Kodama Gallery, Tokyo (2018), 'Mud, Tokyo, and Swimming' at Shinjuku Park Hall 1, Tokyo (2017), 'Nostalgia Fantasia' at Kodama Gallery, Tokyo (2016) and,' Chain Reaction' at Kodama Gallery, Tokyo (2015). His solo exhibitions 'Casablanca' (2015) and 'Planet' (2017) both took place at Kodama Gallery in Tokyo.
He graduated with a MA in Fine Arts from Tokyo University of the Arts, having completed a BA in Fine Art.